We organize Y&Y Cycling Tours Tokyo since 2013. Since then, we have welcomed guests from all over the world.
Now I'm writing this new message during the pandemic of Covid19. We were supposed to have great expenses with Tokyo Olympics and Paralympics 2020, but i has totally changed.
We have a chance to upgrade our website using this time. I hope you like it.
We planned our tours for years. However we experienced the big earthquake in 2011 and had to postpone the plan. Now we are very glad to introduce our tours to you.
Based on our guide experience, we chose a lot of nice places that you cannot visit on big group bus tours. Since we are local professional guides, we always give you updated information.
All our guides passed national guide test and hold the national guide certificate. We are acknowledged by Japan Tourism Agency and the quality of service is ensured by the government.
Yasushi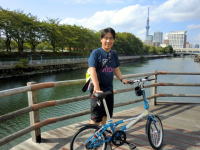 Welcome to our web site. I studied tourism and worked as a tour guide in Canada. The four years experience in Canada taught me a lot. Not only about foreign cultures, but also I learned a lot about Japanese culture. That experience was very important for my career. Now I've been working as a professional tour guide in Japan for five years. Sometimes I guide big groups from Hokkaido to Kyusyu but I always wanted to start my tours that go around my neighborhood in a small group. Please be our guest.
Yoko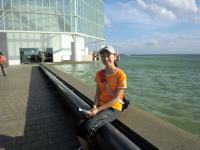 Hi, there! I'm Yoko. Brief introduction about myself; I used to study and work in Australia; I became a guide in 2009 and I've lead a lot of walking tours since then; Big tennis fan, too.
Haven't ridden a bike for a while? No worries! First and foremost, our bikes are VERY easy to ride. Second, we make lots of small stops to keep you lively the whole day. To top it off, you won't miss a single thing during the tour with our guiding. I assure you it is our tour that will make your day!